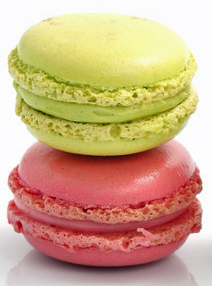 Macarons are two delicious melt-in-your-mouth cookies sandwiched together with a filling. You can color and flavor macaron shells but usually the flavor is in the filling.
There are different macaron fillings from ganache to buttercream to jam, lemon curd, cream and even (are you ready?) mascarpone cream.
Today, I will talk about ganache filling. Macaron ganache filling is made from chocolate and thick cream. You can use milk, white or dark chocolate. Personally, dark chocolate is my favorite but white chocolate gives a delicious contrast of flavors to some macarons, for example, pistachio macarons – yum-yum!!
When piping or spooning ganache filling onto macaron cookies be sure that the filling reaches right to the edge, and it's thick enough so you can taste it but won't squash when you take a bite. That's the trick. The right consistency is important here.
The right macaron filling is light, creamy, and slightly firm. The Macaron Master (TMM) shows how to achieve the right consistency, texture and flavor.
Now you can flavor macaron ganache filling or use it as is. Once again, TMM provides many delicious ideas. Basically, to go beyond the chocolate taste you can flavor the ganache with coffee, spices and even alcohol. You can also infuse the cream with herbs, spices, lemon zest, and even tea.
HOT TIP: Usually, chocolate keeps well. However, because ganache filling is a mixture of chocolate and cream, and cream contains some water, all this reduces the shelf life of the filling. If you want to prolong the shelf life of the ganache then replace the cream with evaporated milk. It won't taste just as good but it will be close… and it will extend the shelf life of the ganache!
Without the right filling, macarons don't taste quite right. So, be sure to choose the right filling, to complement the shell and give you a taste sensation!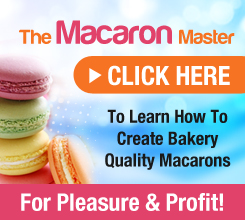 The Macaron Master is a step-by-step illustrated guide to creating your own bakery-quality macarons – for pleasure & profit. It covers ALL techniques – French, Italian & Swiss! Click here to learn more!