"You Too Can Learn The 'Secrets' Celebrity Chefs Use To Create Smooth, Melt-In-Your-Mouth Macarons, Perfectly-Round Domes And Delectable Fillings!"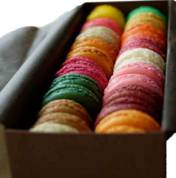 The Macaron Master teaches you the coveted tips and techniques celebrity chefs use to create delightful French, Italian + Swiss macarons for glossy magazine photo shoots.
Most importantly, you will learn how to do that in your humble kitchen without any fancy kitchen gadgets or any special cooking or baking skills.
Best part, if you love baking or are looking for a new career opportunity then you'll love the business section of this guide that shows how to start your own successful macaron making business from home, if you wish.
What makes this 'Macaron Guide' different!
Most macaron books/recipes talk about countless variables that can turn your efforts to rubble. However, we have identified the three most critical variables that really make a difference – master these crucial steps and your macaron success is virtually guaranteed.
YES, The Macaron Master will teach you how to MASTER the macaron!
Sure we don't claim to have invented the Parisian macarons, inside we show you a superb macaron recipe that dates back to 1807 – probably one of the oldest macaron recipes in the world! Macaron baking is not a twenty-first century invention, however, we are confident you won't find another guide that is just as detailed and complete, while at the same time being simple, practical and easy-to-follow for those kitchen shy with little baking experience.
This guide will save you a tonne of money because we did all the hard work, expensive testing and frustrating experimentation for you, so you won't have to!

What makes The Macaron Master – Create Bakery-Quality Macarons For Pleasure & Profit even more special is the special part that covers almost everything you need to know to start your own successful macaron baking business on a shoestring budget.
So while you will learn how to make bakery-quality macarons at home, you will also learn how to become a businessman or a businesswoman… A Macaron Entrepreneur!
We have interviewed a top marketing expert who is Australia's 'go-to' guy for marketing and business success. And we're convinced his wisdom is PRICELESS for anyone wanting to start a home-based macaron making business.
Well, guess what? We've included ALL his best tips and strategies in The Macaron Master!
You will learn how to create your own marketing and advertising campaigns, how to promote your new business, and how to use the internet to help you make this a successful endeavour, if you so choose.
So, you will get a superb recipe to help you master the macaron PLUS a step-by-step plan to help you start a macaron making business!


The Macaron Master covers nearly everything you need to know about getting up and started in your own home-based macaron business in no time
If you love baking or enjoy the sweet pleasure of eclectic treats then you're about to master a very useful skill set…one that could not only teach you the art and science of macaron making but also show you how to turn it into a lucrative career.
The Macaron Master - Create Bakery-Quality Macarons For Pleasure & Profit will give you step-by-step instructions to help you produce macarons of the most popular colours and flavours that have universal appeal like:
coffee macarons

caramel macarons

pistachio macarons

blueberry macarons

raspberry macarons

mango macarons

lemon macarons

chocolate macarons

liquorice macarons

(you won't believe what we use for the filling!)

The Macaron Fundamentals
As soon as you understand the fundamentals you can go on and start creating your own original variations and exotic macarons that are just as unique as you are.
Finding exotic recipes on the internet is not a problem. Making them work in your kitchen can be another story! But, as soon as you understand what makes macarons tick – and that's what this guide will teach you – you should be able to pick and shuffle different recipes to produce new ones with ease.
The Macaron Master – Create Bakery-Quality Macarons For Pleasure & Profit teaches you to walk before you run. It will teach you the fundamentals, it will give you a bunch of advanced tips and tricks the pros use so you can become a Macaron Master in a very short period of time from now.
You will also learn how to:
Whip Eggceptional French, Italian + Swiss Meringue (YES! We cover them all)
Bake Perfect Macaron Domes
Colour & Flavour a Macaron Shell
Create Delicious Velvety Fillings for Your Macs!
18+ Great Ways To Flavour Ganache Filling
Make Nut-Free Macarons
Produce Cute Vibrant Colours That Romance The Eye!
Create slightly crisp shells with moist and tender underneath with delightful fillings on the inside
TAKE A LOOK INSIDE!

CLICK ON THE IMAGES Below To SEE the Actual Contents Pages…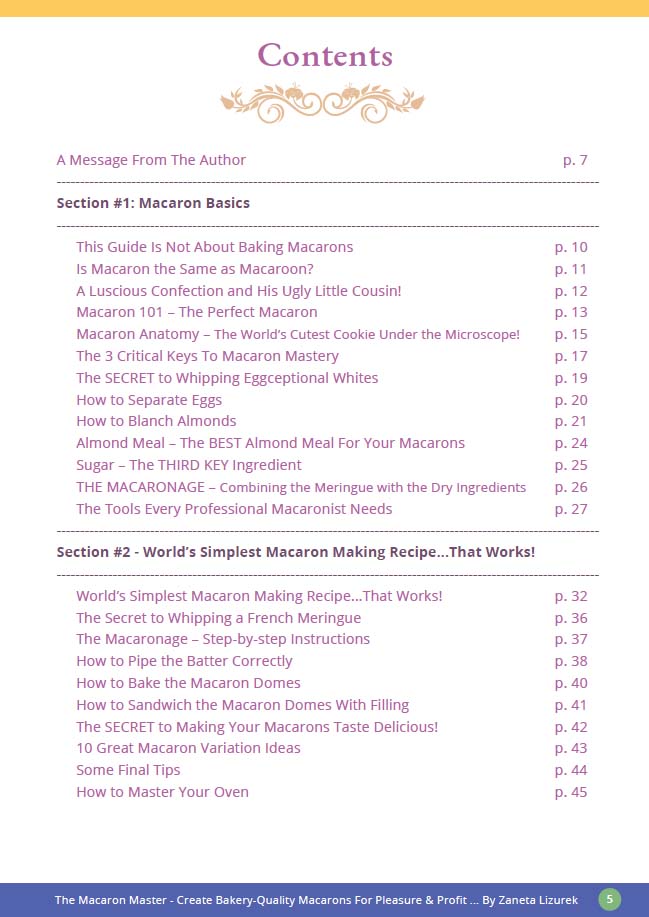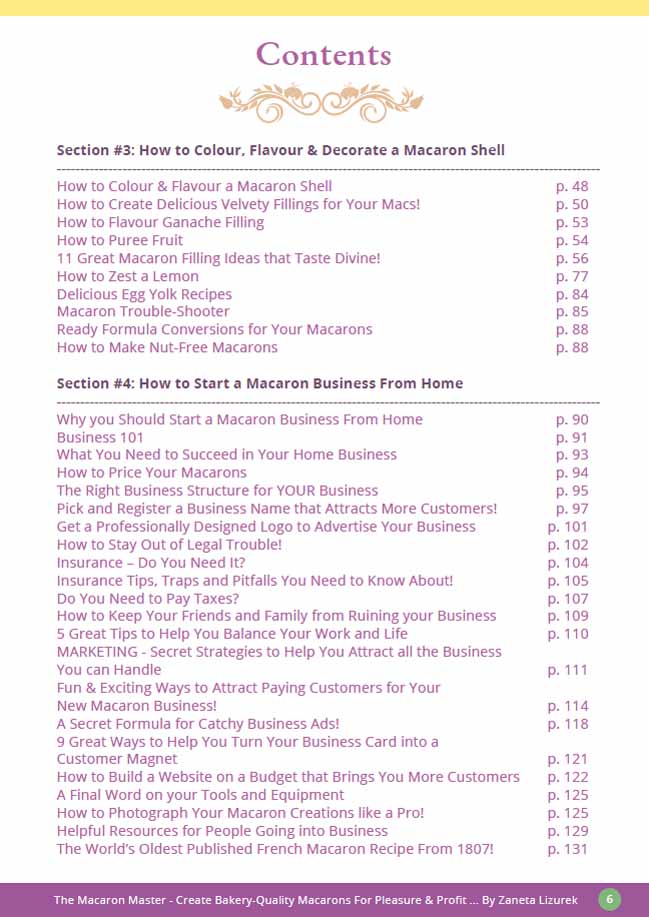 You will learn the exact technique for whipping a perfect meringue, the macaronage, and will even get TWO TEMPLATES for piping perfectly round macaron domes.
You'll love the fact that EVERYTHING important is described in great detail that is rarely seen in cookbooks these days.

You will also get little-known SOLUTIONS to these frustrating macaron problems: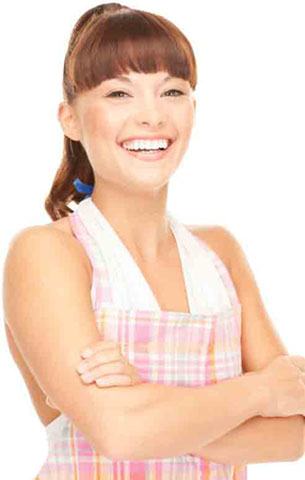 My macarons have bumpy, uneven domes
The pointy tips (nipples) on my macarons don't disappear after piping
My macarons have no feet (or ruffled skirt)
My macarons taste too sweet!
My macs look lopsided
My macarons are flat, cracked, and really chewy
My macarons all look different in size after piping
My batter remains too stiff despite mixing
The shells cracked on my macarons
My batter is still wet after drying
My batter is too runny
My macaron shells burn
I can't remove the shells from the baking paper
My macaron shells look hollow
My shells look rough
As you can see…The Macaron Master is a must-have guide for anyone wanting to master this Parisian confection!
So what's a FAIR PRICE to pay for this comprehensive only-of-its-kind macaron guide?
Let me be upfront with you…
There are many macaron books out there that contain great tips. Problem is that some of their tips don't produce great results consistently.

This special guide cuts the learning curve. It shows you detailed and illustrated step-by-step instructions pointing out exactly what you need to aim for at every step of the way to be successful. I still have to find a book that is just as detailed and complete, while at the same time being simple, practical and easy-to-follow for those kitchen shy with little baking experience.
And, it's priced at just $34.95. Considering everything you get – it's a BARGAIN!
PLUS…don't forget that you also get a business and marketing section that shows how you can easily turn macaron making into a profitable home-based macaron business.
There is nothing like The Macaron Master anywhere!
So, surely we could charge more for this unique guide… However, offering this special guide in a digital format keeps our costs down. After all, we don't have to print, package, ship and post books to you – that's why we can offer you all the information (including the business-building section) for a one low price.

Best part, since it's an eBook you can be reading and baking in MINUTES from now! If you have an iPad, Kindle or similar technology then you already know the benefits of eBooks. Downloading is quick and easy – so what are you waiting for?

Now, I've purchased things online before so I know what you're thinking. Perhaps on the one hand you are excited about learning the secrets to making bakery-quality macarons for fun and profit but on the other you want to spend your money wisely. We all do!
So, here's my generous guarantee to you…
Give This Offer a Go…At

MY

RISK!
My guarantee is simple. If this guide is not everything that I promised simply send me an email, and you'll get a FULL REFUND! You get this 100% Money-Back Guarantee because I don't want to keep your money if you're not totally excited with what you are offered here. Simply click the 'Buy Now' button below and take your first step toward mastering the macaron!


Learn to create bakery-quality macarons TODAY!

Perhaps you've spent way too much time "researching" and picking up fussy little hints about proper macaronage, aging eggs, keeping the oven door slightly open during baking, using double sheets and drying the almond meal several times. Goodness there are so many contradictory views and opinions – no wonder so many people get confused!

Maybe you bought numerous books and visited dozens of blogs and baking forums in search for the best macaron recipe…
Perhaps it feels like you have tried every possible suggestion out there and yet instead of producing smooth macarons you produced those cracked, burnt and lopsided failures!
STOP!
Stop wasting your time and money by following macaron recipes that don't work.
Give this special guide a go TODAY and see how easy and fun macaron making can be.
Simply invest in this guide, take your baking trays out and let's get down to business!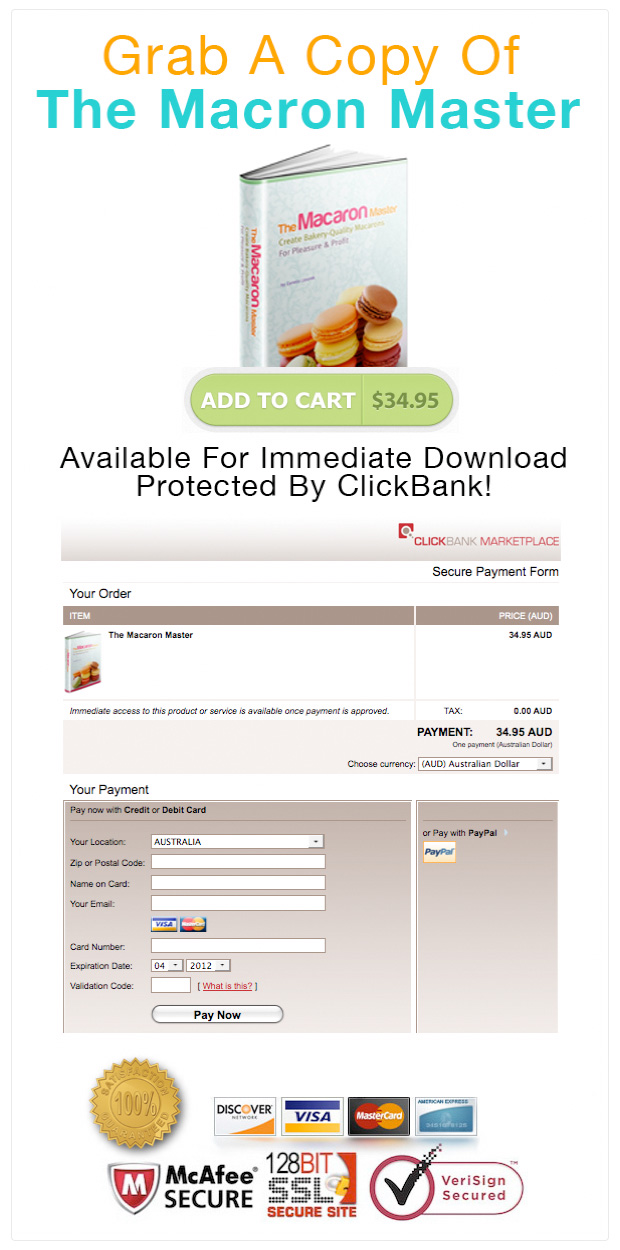 P.S. ORDER TODAY and you'll also get my SPECIAL BONUS REPORT: Italian & Swiss Meringue Recipes (Valued $9,95) ABSOLUTELY FREE! With this amazing report you'll be able to make smooth and delicious French, Italian + Swiss macarons!