So, what is a macaron? I always said that there is something thrilling about the macaron, that makes other pastries seem lifeless and heavy. Macarons come in an endless array of colors, from delicate pastels, to sultry shades of black, purple, and raspberry. Here's a little pic showing what is a macaron or what a macaron actually is! Hope you like it 🙂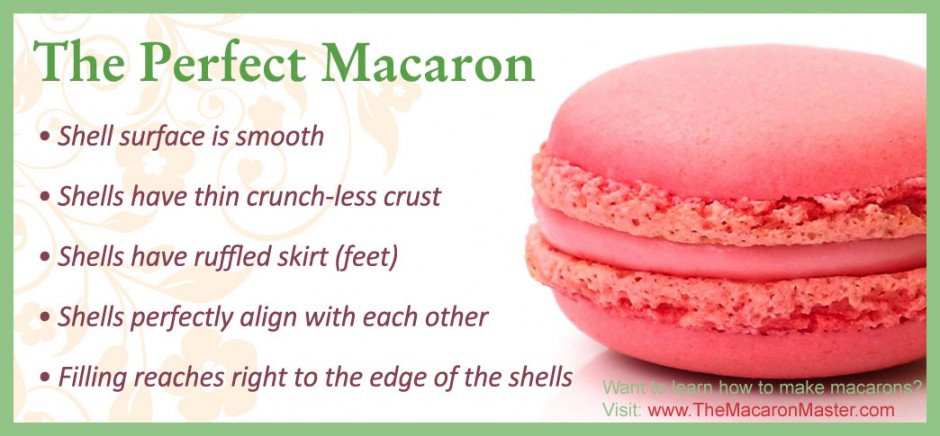 The macaron is made from two cookies, joined with a layer of ganache, buttercream, or jam. The cookie is domed, with a smooth shell, and a flat bottom. A macaRON is not the same as a macaROON – check my other macaron-vs-macaroon-whats-the-difference post if you're still not sure what makes the two … well, different. Because they are not the same.
So we are talking about what is a macaron and what makes them obviously different is that along the bottom of each cookie, is a small ruffled layer called the "foot" which forms as macarons bake.
They range in size from 4 (1.5 in) to 8 cm (3.1 in), but are generally on the smaller side. When you bite into a macaron, the shell should crack and break with ease, giving way to a chewy middle layer of filling. It needs to be chewy but not sticky – there is nothing amusing about having to clean your teeth from colored meringue that just sticks to your teeth and all.
Below I share some macstory or history about this delightful cookie!
Some history about the world's cutest cookie!
The macaron is said to have been brought into France by Catherine de Medici, the Italian wife of King Henry II in the mid 1500s. The early macaron recipes are similar to its modern variety, and include a mixture of egg whites, sugar, and ground almonds mixed into a meringue and baked. Recipes for macrons spread across France and different regions became notable for their own macarons.
The abbey Notre-Dame de Consolation in Nancy baked and consumed the macaron for the nutritional benefits of almonds, as eating meat was forbidden according to religious practice. Two nuns from Nancy are credited for commercializing the macaron shortly after the French Revolution in 1789. The house of Ladurée in Paris is credited with the creation of the modern flavored and tinted macaron.
Piles of colorful cookie featured heavily in Sofia Coppola's 2006 biopic Marie Antoinette, and helped push it onto the palates of a new global generation. One of the great appeals of the macaron, is its feel of indulgence and luxury at an affordable price. For budget conscious travelers in Paris, the ability to purchase macarons individually or by the dozen is a ticket into boutique pâtisseries such as Ladurée or Pierre Hermé. Here is a resource of Macaron Bakeries Around the World.
A taste of macarons…
Unlike other French pastries, a box of macarons can be savored over several days, or tucked away in a suitcase and brought back home to share with friends. However, one doesn't need to travel all the way to France for a taste of these incredible cookies. And it is unlikely that your friends won't know what are macarons! The macaron has gained favor throughout the world, and chefs from Tokyo to Toronto offer a wide range of flavors for interested gourmands.
The popularity of macarons
According to Wikipedia: "In Paris, the Ladurée chain of pastry shops has been known for its macarons for about 150 years. In France, McDonald's sells macarons in their McCafés, sometimes using advertising that likens the shape of a macaron to that of a hamburger. The McCafé macarons are produced by Château Blanc, which, like Ladurée, is a subsidiary of Groupe Holder, though they do not use the same macaron recipe."
As impressive as the colorful displays of macarons are, their taste is even more astounding!
The domed exterior of the macaron cookie is light and crunchy, while the inside is moist and chewy with a delicate almond flavor supplied by the ground almonds they contain. The cookie itself is does not usually impart a strong flavor, rather the filling is where most of the sweetness and taste emerges.
The filling could be made of a jam, buttercream, or ganache, and sandwiches the two cookies together after they have been baked and allowed to cool. Ladurée's addition of filling to sandwich two macarons together, is what allowed them and other chefs to create experimental flavors, transforming the cookie from its traditional roots into an exquisite delicacy.
So, hopefully this questions 'what is a macaron' has been answered sufficiently for you, and you appreciated some macstory … it is not a new cookie but it has grown in popularity over the last few years and it continues to grow.
Have you tried macarons yet?
Were they good, acceptable or splendid? Please share your macaron experience with the rest of us below!