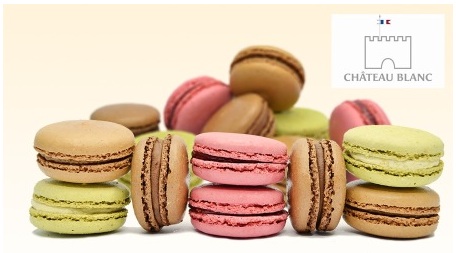 If you love sweets then here's an idea. Have you heard about those coupon deal sites? I am sure you have. I received a macarons deal all the way from Singapore! It looks like a popular deal with 101 of them already sold.
Chateau Blanc sells 4 macaron pieces for $9.90 – and while I haven't tried them, they sure look good for the eating! Apparently Chateau Blanc uses premium Valencia almonds to grind into powder to make the macaron shells. They also  only use all natural flavourings and colourings.
They are not your typical macarons either! Apparently each macaron weighs in at a hefty 45g and measures about 5.5cm across so you'll get the bang for your buck. Too bad they are all the way in Singapore! But this is not the point of this post.
If you're looking for a new career then why not start a macaron business! The Macaron Master shows you how to do that and also gives you lots of ideas for new customers – click here to learn more! I guess you can follow in the footsteps of Chateau Blanc and start offering your little masterpieces on coupon sites like Groupon, Cudo, SmartMoney, there are dozens of them out there!
Just an idea.