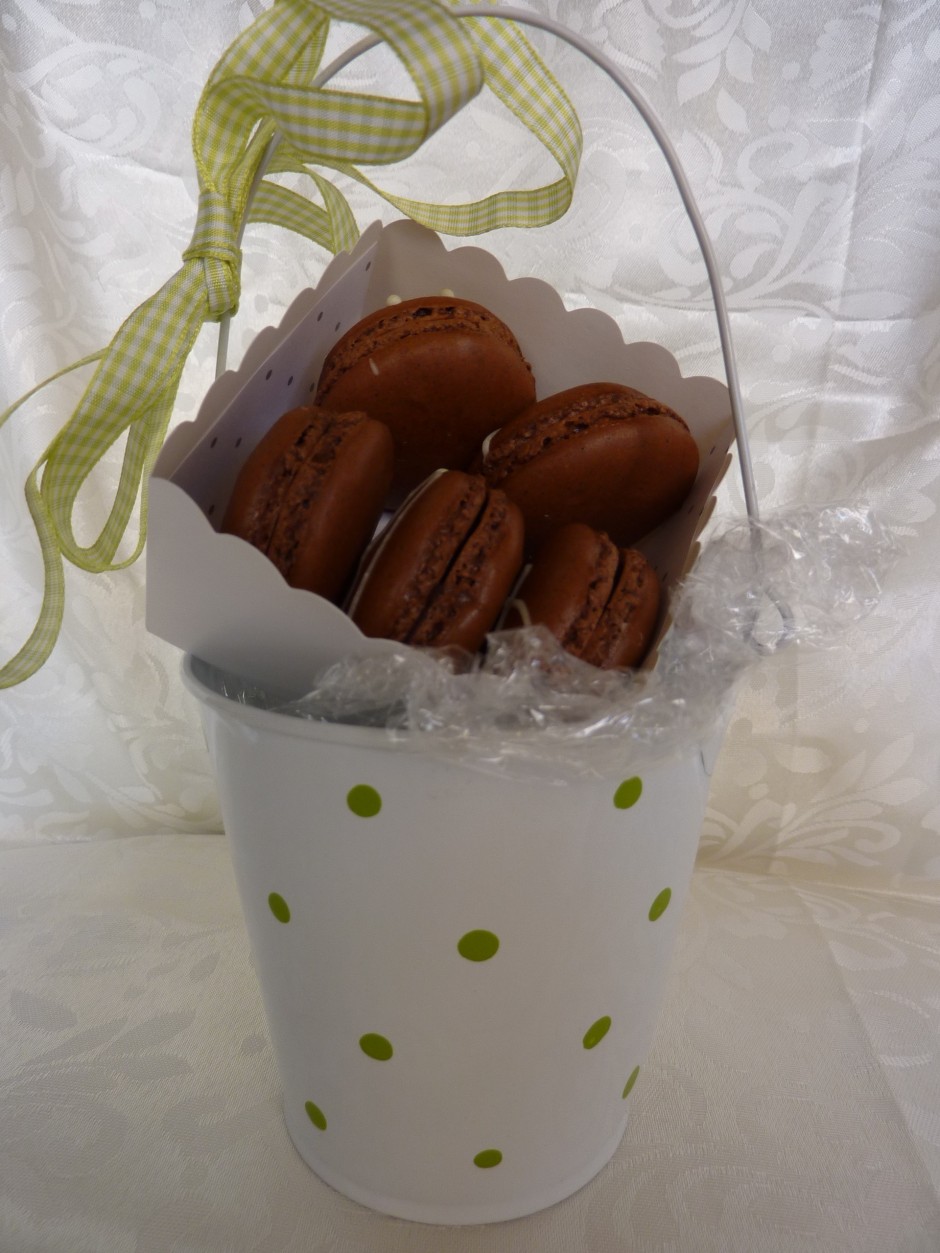 Nothing makes macarons more adorable than presenting them in little adorable boxes.
C'mon, macaron friends, our little cute creations deserve a beautiful presentation. And if you're thinking of how to start a macaron business then you must get the right packaging for your bites of heaven or else risk looking unprofessional!
It's all about presentation; things really taste better when they also look pretty.
So, I decided to do little research to give you an idea what is possible and where you can get pretty macaron packaging and gift boxes online.
This list goes in no particular order, you can break all the rules and start reading from the bottom up if you like. 🙂
What's important I think is that you get a feel for what's available and then go with the supplier that makes the most sense to you.

If you like lots of different ideas then visit Nashville Wraps. They offer gift bags, gift boxes, gift wrap, candy boxes, food packaging, among half a dozen other things. No macaron boxes, you ask? Actually some of their candy and food boxes look nice enough to accommodate little macarons. They even do custom printed packaging. Also, be sure to check out their cute ribbons, they look very pretty!

Paper & Boxes is an Australian macaron packaging company. They too have a wide selection to choose from. They claim that they 'sell all [their] products online at genuine wholesale prices,' and while naturally they like getting big orders they are happy to help you with small ones just the same. Speaking of presentation, it would be nice to see those empty boxes above filled with macarons so we can all see how pretty they look when they have fulfilled their purpose.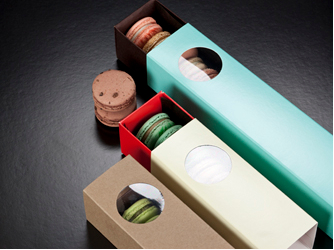 And here's a company that seems to understand what presentation is all about. How does one present these decadent delights in a way that honors the understated class of the confection? It seems that BRP Box Shop has the answer.  They present you with options too; quoting their website: "Cloak your cookies in boxes, windowed or not windowed, monochromatic mating of drawer & sleeve or mixed and matched color combinations. The perfect platform for your embellishment in a style that can also stand proudly on its own." BEAUTIFUL!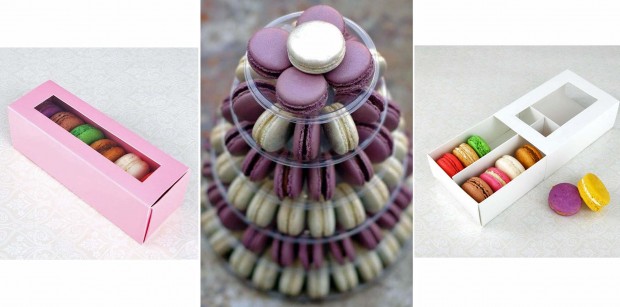 Cheerico
is a supplier of macaron boxes and display that makes the largest range of high-quality acrylic stands for their worldwide customers. Available in a range of styles and colours the collection of stands suits cupcakes, macarons – the sweet du jour for stylish weddings. Each
macaron tower
is simple yet sturdy and can be complimented with a range of
macaron boxes
(which come in a variety of sizes and colours) and cases if you intend to gift a sweet treat as bomboniere. Visit their website for more information!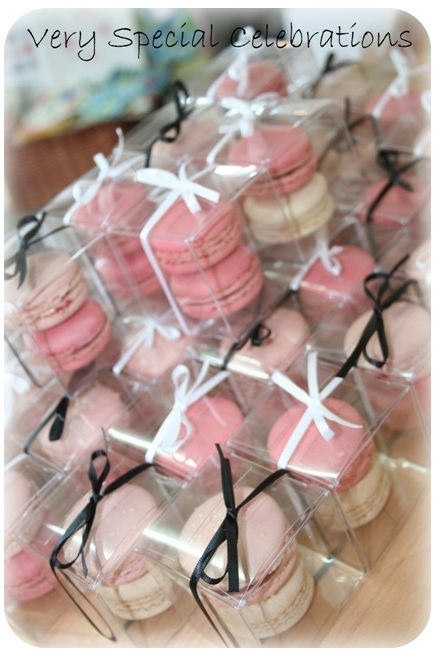 Very Special Celebrations supply clear macaron boxes or macaron bombonieres that will make those exotic vibrant macarons look sensational.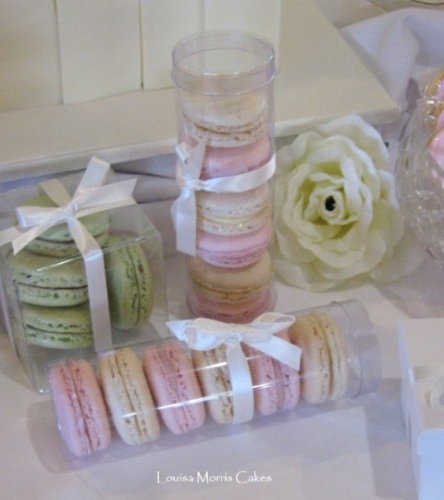 Louisa Morris Cakes offers something similar. No minimum order quantity.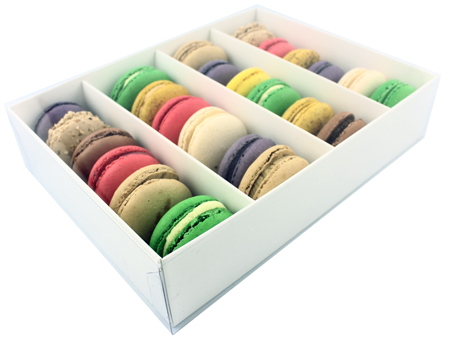 In Australia, you can try Clear-pak Australia. They produce macaron packaging in clear and cardboard combinations for 6 to 24 macarons.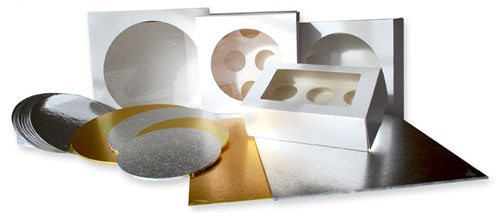 Biopackaging is also an Australian company that supplies presentation and packaging solutions for cupcakes, cakes, biscuits, macarons and baked goods. They say they supply compostable, biodegradable and environmentally-friendlier products. Once again, vibrant macarons would make those boxes less empty!
I am sure there are other macaron packaging, macaroon gift and macaron bomboniere suppliers but the above list should get you started.
You will also need a recipe for macarons if you want to create really pretty macarons. The Macaron Master shows you how to do that and also how to start a macaron business from home (you don't need any fancy equipment or skills!). Click here to learn more!