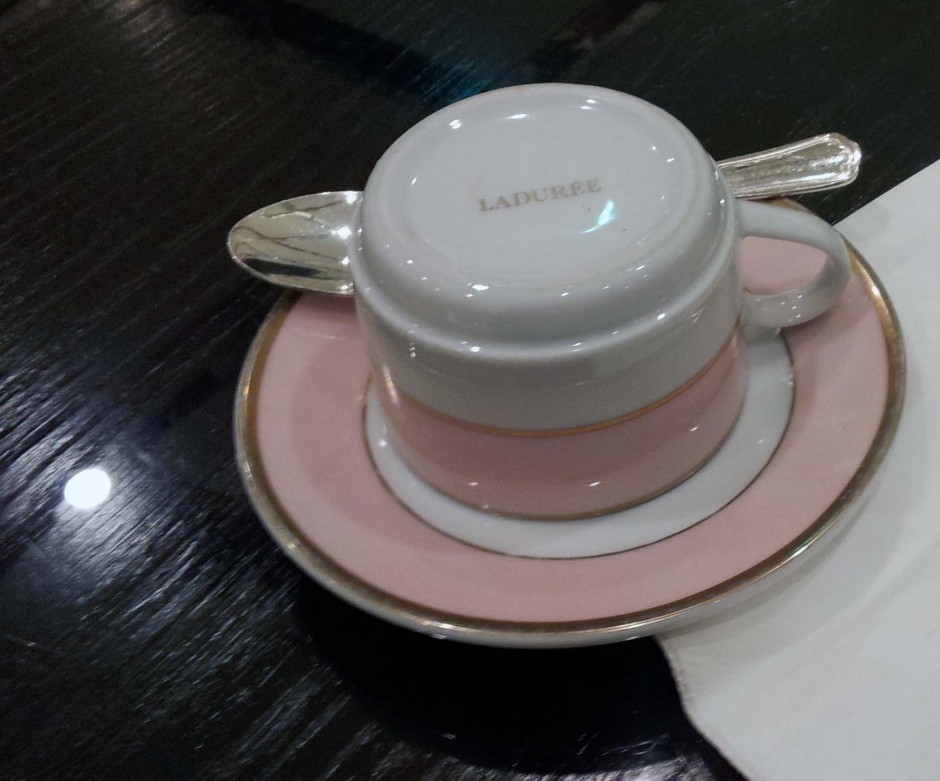 Last year I published Ladurée Brings French Macarons To Westfield Sydney, Australia happy announcement about the famous French macarons arriving in Australia for the very first time. Ladurée makes some of the world's best 'commercially-made' macarons that look and taste divine. Those Ladurée macarons are blast frozen in Switzerland and shipped to Australia. You might wonder whether blast-freezing doesn't take away some of the macaron magic – well, let me tell you, they tasted delicious!
So, I have some macaron pics to show you and share with you my Ladurée macarons experience at Westfield Sydney. When evaluating macarons I use the Best Macarons Criteria because taste is so subjective and judging macarons by either good or bad is so … let's just say unsophisticated. I will share my macaron experience a bit later on but now for those photos!
Ok, Ladurée Westfield Sydney is not your typical macarons bakery – actually, it's not a bakery at all. It's a classy macaron boutique right inside the Westfield shopping centre next to big brands like Mulberry. The shiny slabs of marble embellishing the displays give you a sense of opulence and luxury.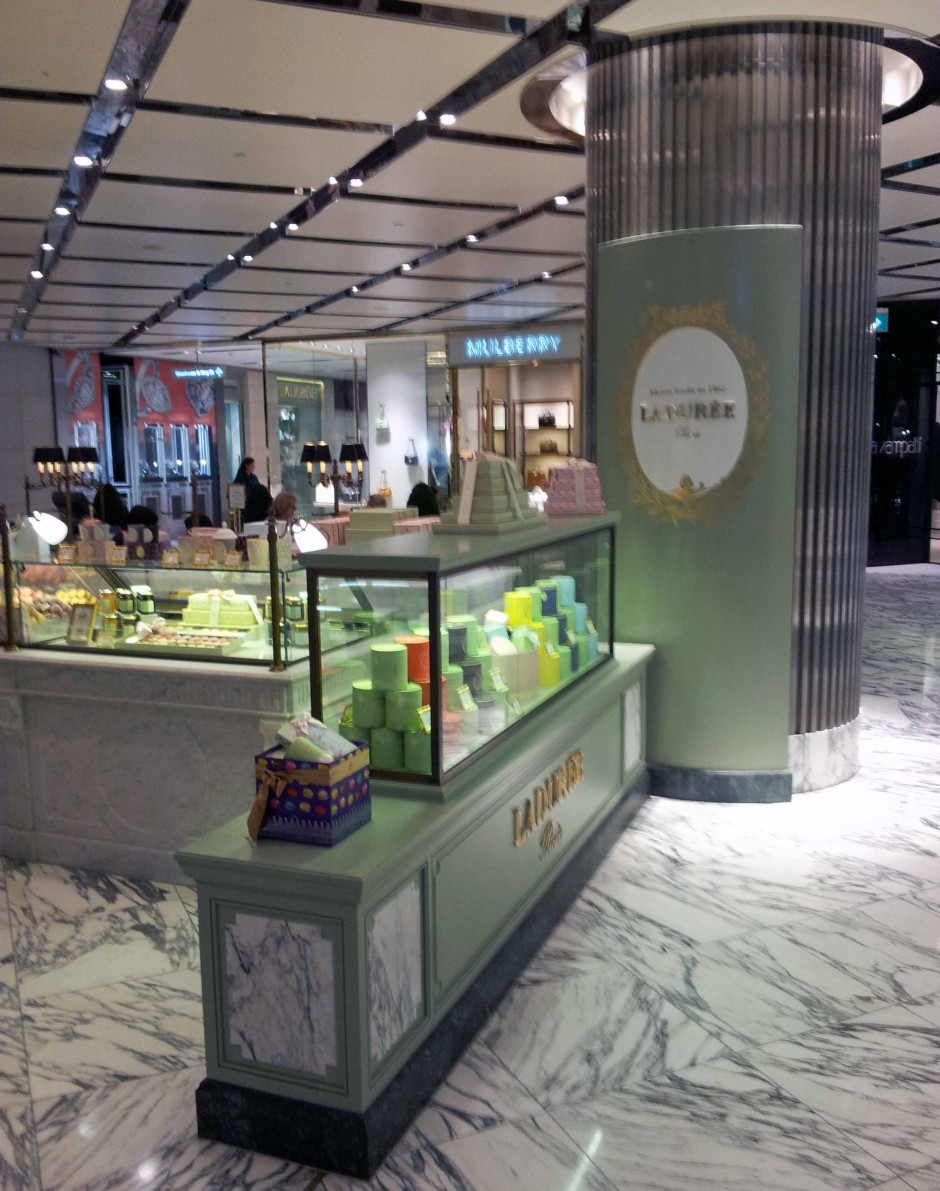 Look at the Ladurée macarons collection!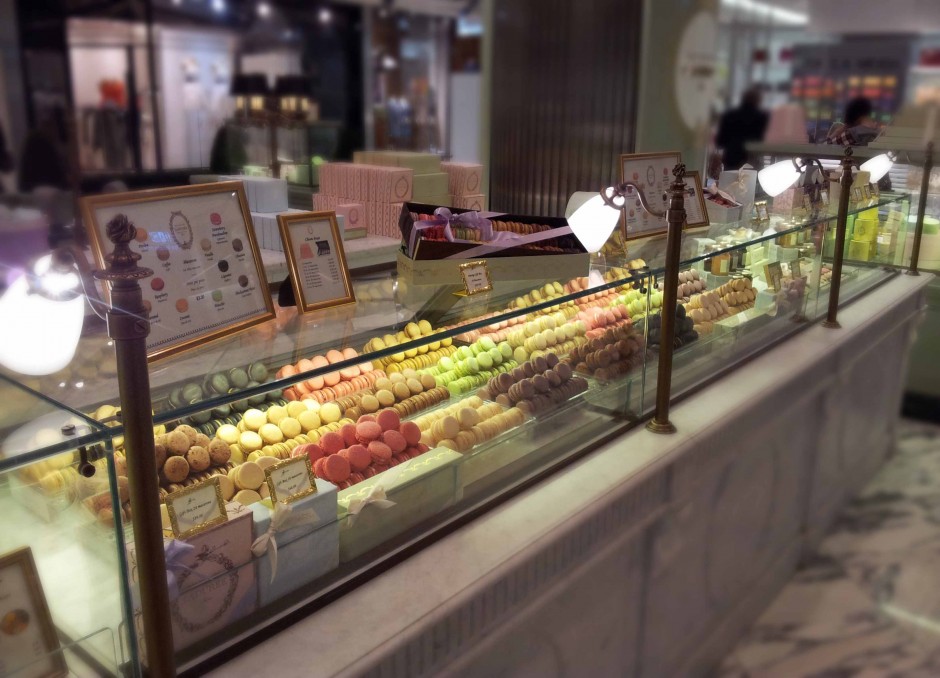 Here's a close-up so you can feast your eyes…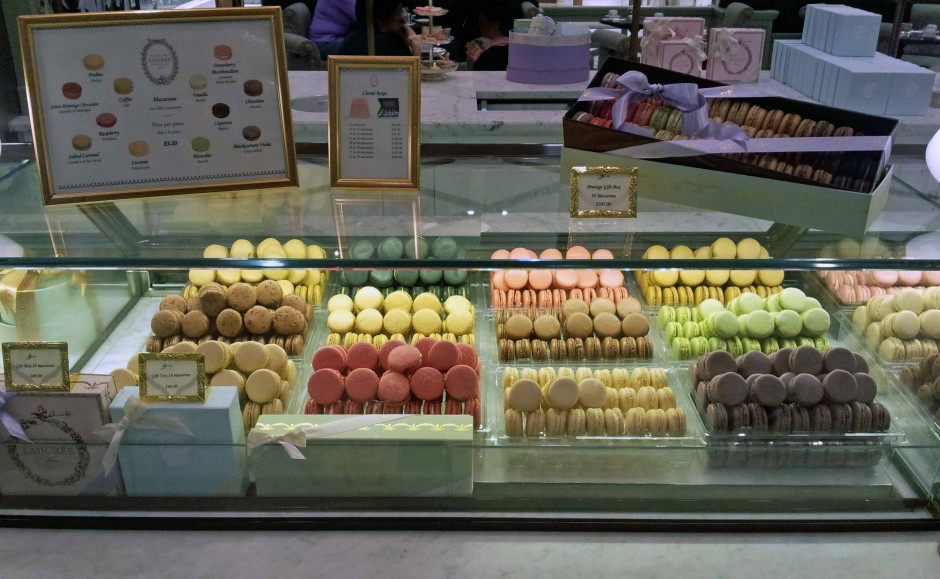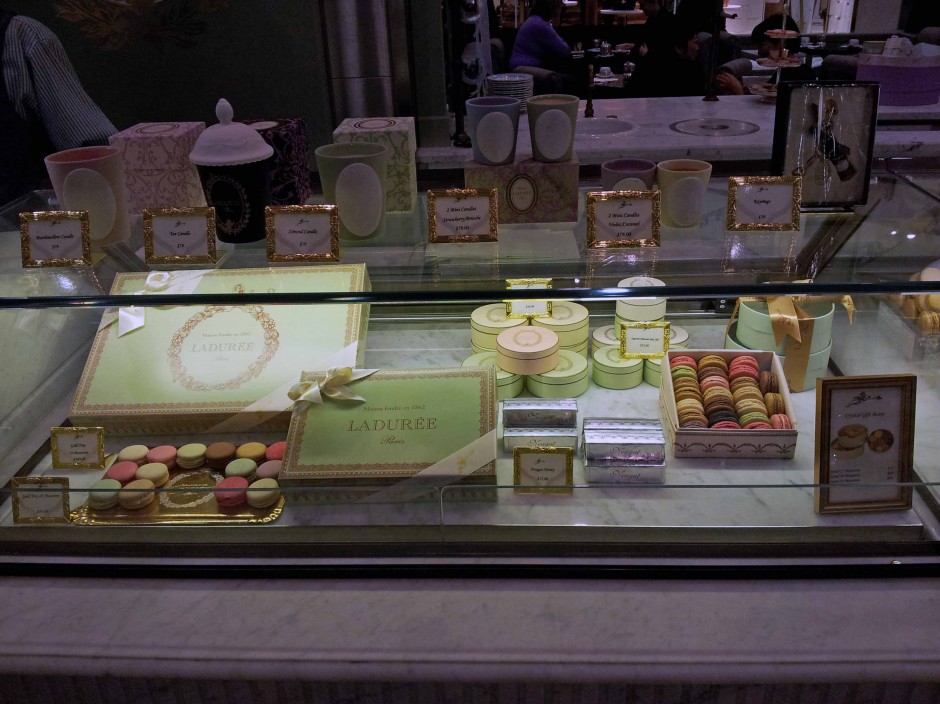 I ordered delicious caramel and chocolate macarons and indulged myself in a little loose-leaf tea ritual. If you want to seat at a table then two macarons would cost you $8 ($4 each or pay $3.20 for takeway). Tea is $7.50 and you will get several cups of warm fragrant and robust tea out of the teapot you see in the pic below. Not sure what the knife was there for – perhaps for sharing? Don't be silly, nobody shares macarons!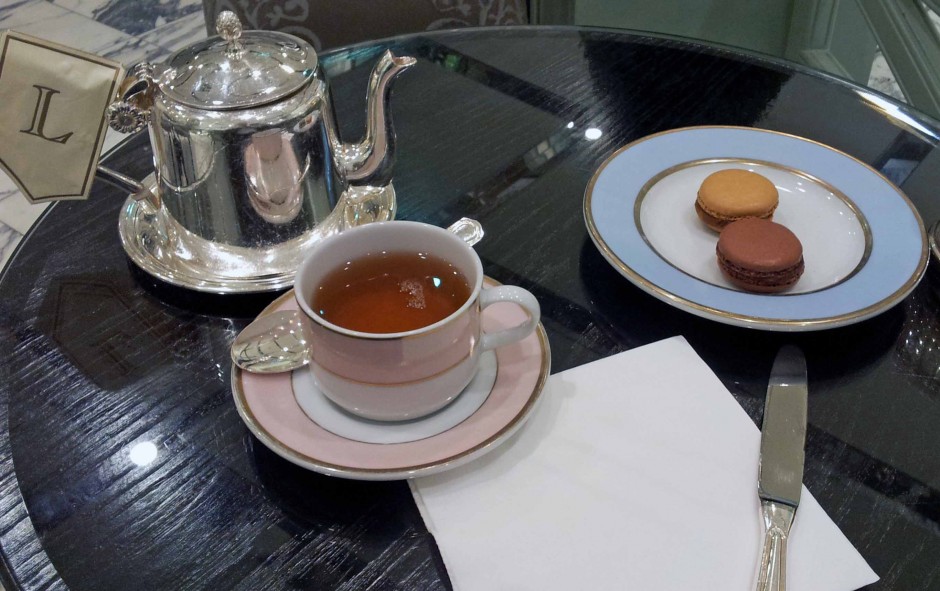 A this stage it became obvious that I needed to buy some more macarons… for later and, of course, for my partner! I didn't want to get into trouble 🙂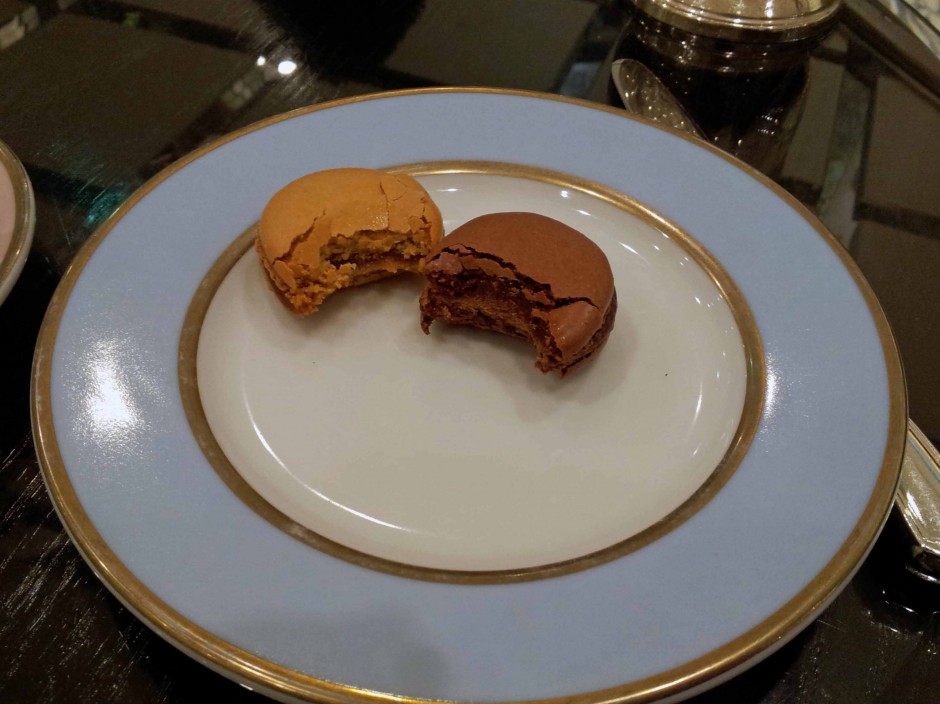 How unlucky! Some of the flavours that I really wanted to try weer all gone so I got the following flavors: pistachio, vanilla, chocolate, more caramel, cherry blossom or was it rose?, you can see them below…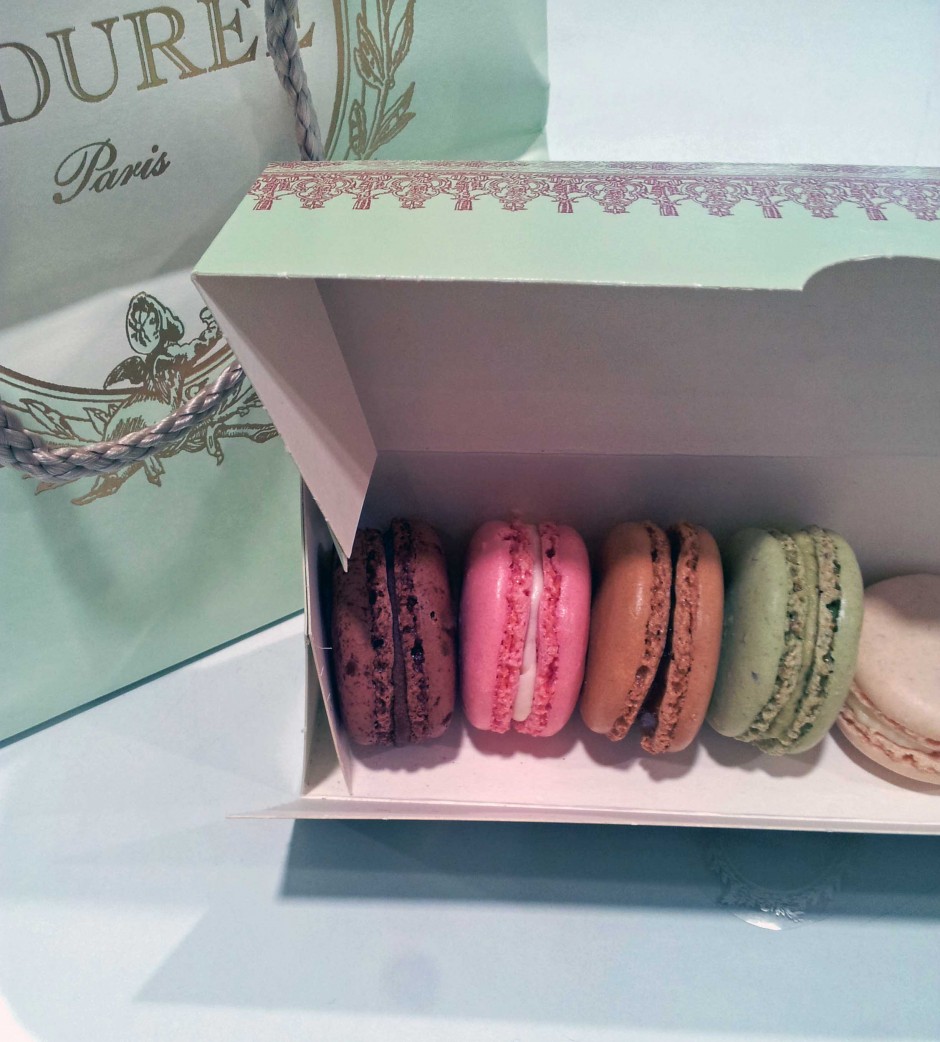 Ok, ok here's a close-up…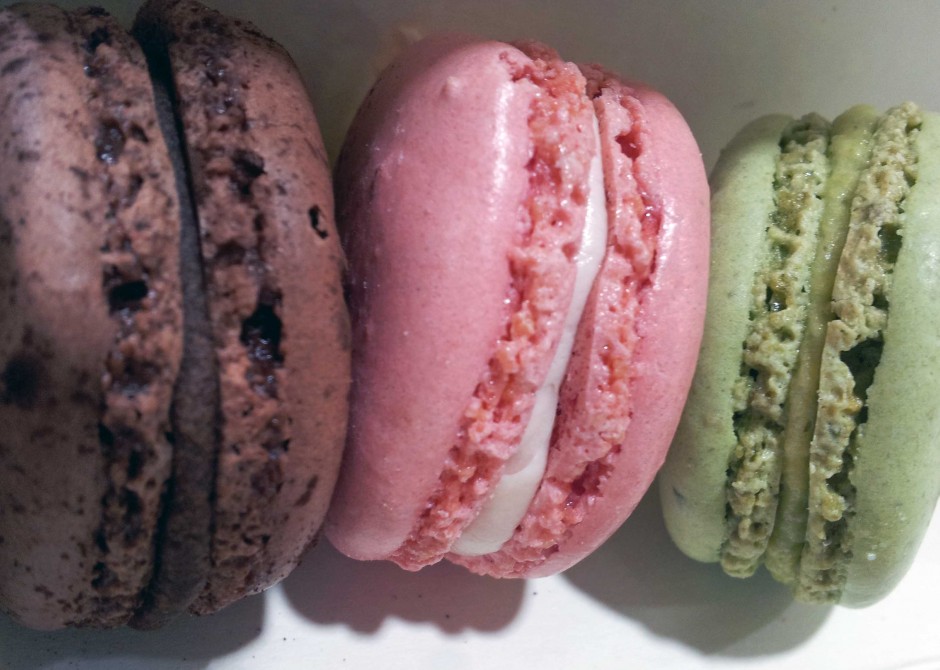 They truly tasted great! Going beyond 'great' here's what I was looking for and how I rated the macarons on that occasion:
shell texture – I was looking for smooth delicate and slightly crispy but not crunchy shells (5/5)
filling texture – I enjoy smooth, light and flavourful fillings (5/5)
flavour – needs to be distinct and not overly sweet; was the pistachio macaron flavoured with almond essence? It certainly tasted that way! I gave a bite to my partner and he was a little disappointed. Perhaps it was just an odd one. (4/5)
aesthetics – the shape of macarons was consistent and the feet were pronounced, it appears that some shells had empty hollows but overall they looked cute, smooth and consistent! (4.8/5)

aftertaste

– this is important. You don't want macarons to be so dry that you feel like you're about to choke on some dry baked mixture and soggy macarons will ruin the experience. These macarons weren't any of that. The shells were firm and the filling was smooth – they did melt in my mouth. But at times, I could taste some 'crumbs' and don't think it was almond meal. Plus the almond essence taste mentioned above… (4/5)

value

– you pay $3.20 so a tiny bit more than other places but you get to experience the most French French macarons without globe-trotting to Paris! (5/5)
*Each of the above was ranked on a five point scale (0-5).
Hopefully you have enjoyed this review. Please note that I described my personal experience and that of my partner's and we didn't try all of their macarons on alternating days so your experience may differ. I would definitely recommend Ladurée Macarons – they look and taste delicious! If you're trying to master the macaron then you might invest in a reliable macarons recipe and also pay Ladurée Macarons a visit!
Their address in Australia:
Ladurée Macarons
Level 3 Westfield Sydney
Cnr Market Street & Pitt Street Mall
Sydney, NSW 2000