The Jour du Macaron (Macaron Day) was the creation of the la Maison Pierre Hermé from France. Macaron Day is celebrated every 20th of March. So, the countdown has well began! It's a very special occasion where participating macaron bakeries hand out free macarons.
Speaking Of Pierre… On 20 March, Pierre Hermé Paris celebrates the 8th annual Jour du Macaron (Macaron Day). From 12 to 20 March, in honour of this special event, e-Gourmandises exclusively offer a special box of 24 macarons and donate a percentage of sales to the charity "Vaincre la Mucoviscidose". You can learn more here: Pierre Herme Boutique.
Macaron Day will even be celebrated in Hungary! With the following exhibitors/bakeries:
Patisseries:
à table! boulangerie-pâtisserie
Paris Budapest Restaurant & Bar
You can learn more here: http://macaronnap.hu/program-of-the-macaron-day-and-its-exhibitors/
In Japan it's called the white-day and it will be celebrated on the 21st. You can learn more here: http://pierreherme.co.jp/
Chef Thierry from Vancouver will celebrate the joy of the macaron with their second
annual Jour du Macaron. On March 20th, he will be offering a limited edition spring-inspired "Cherry Blossom" macaron featuring a honey bush tea shell, honey butter cream and Chef Thierry's signature cherry jam in the centre. Also in Vancouver, Kitchening & Co will be giving away up to $10,000 worth of macarons to raise money for charities doing work in Vancouver's Downtown Eastside.
Macaron Day NYC coincides annually with the Jour du Macaron in Paris, created by la Maison Pierre Hermé Paris in association with the Relais Desserts. They invite to join them on Wednesday, March 20, 2013 to discover macarons in New York as bakeries across the city once again come together to provide free macarons to customers.
The following bakeries are scheduled to participate in this grand event in NYC:
2013 PARTICIPANTS
---
Bisous, Ciao. Macarons

---

Bosie Tea Parlor

---

Bouchon Bakery

---

Butterfield Market

---

Cannelle Patisserie

---

Chantilly Patisserie

---

Epicerie Boulud

---

FP Patisserie

---

Francois Payard Bakery

---

Macaron Café

---

Macaron Parlour

---

Mad-Mac "The Authentic French Macarons"

At  Bernardaud

---

Michael Allen International Confectioner

At Fresh Fanatic Organic Market

---

Mille Feuille Bakery and Café

---

The Todd English Food Hall
Macaron Day in Toronto celebrates these delicate confections in support of a local charity. They invite to join them on Wednesday, March 20th, 2013 when participating patisseries across Toronto will come together to offer complimentary macarons to customers.  To receive your macaron, visit a participating patisserie and simply mention you are celebrating Macaron Day TO. Participating locations will provide one macaron per customer at no cost, with quantities limited by location.
The following bakeries are scheduled to participate in this grand event in Toronto:
Participants
La Bamboche

4 Manor Road East
416-481-6735
1712 Avenue Road
416-224-5595

Petite Thuet

1162 Yonge Street
416-924-2777
1 King Street West
416-867-7977

Patisserie La Cigogne

1626 Bayview Avenue
416-487-1234
1419 Danforth Avenue
416-466-2345

Moroco Chocolat

99 Yorkville Avenue
416-961-2202

The Wedding Cake Shop

859 College Street
416-916-2253

J'adore Cakes Co.

3308 Danforth Avenue
416-691-4554

Ma Maison

4243 Dundas Street West
416-236-2234

Patachou

1120 Yonge Street
416-927-1105
835 St. Clair Avenue West
416-782-0122

Butter Avenue

3467 Yonge Street
647-341-8686

Frangipane Patisserie

215 Madison Avenue
416-926-0303

Rahier Patisserie

1586 Bayview Avenue
416-482-0917

Patisserie 27

401 Jane Street
416-762-2103

Daniel et Daniel

248 Carlton Street
416-968-9275

The Sweet Escape

55 Mill Street
Building 47, Suite 102
416-214-2253

Le Dolci

1006 Dundas Street West
416-262-3400

Bobbette & Belle

1121 Queen Street East
416-466-8800

Ruelo Patisserie

550 Highway 7 East
905-762-1500
4-6 Erskine Avenue
416-486-1800

Yorkville Espresso Bar

3 Yorkville Ave
416-515-7366

facebook Special Macaron Day macaron-making class Wed March 20th 2013 6pm
Celebrate the

Macaron Day

with The Macaron Master!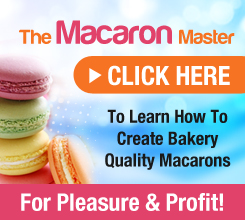 The Macaron Master is a step-by-step illustrated guide to creating your own bakery-quality macarons – for pleasure & profit. It covers ALL techniques – French, Italian & Swiss! Click here to learn more!